The truffles
Take a bite, and be transported to a place of pure enjoyment. These are our currently available flavours.
Vanilla Slice
Rich creamy vanilla custard centre made with real Madagascan vanilla bean. Dipped in white chocolate and then coated with crispy pastry flakes.
Cosmopolitan Cocktail
Decadent white chocolate ganache with vodka and cranberry juice, a touch of orange and a twist of lime....just like the cocktail! Coated in fine white chocolate and gorgeous pink sugar.
Cointreau
Smooth and buttery dark chocolate centre drenched in enticing Cointreau with a hint of sweet orange. Coated in fine dark chocolate and heavenly Belgian vermicelli sprinkles.
Popping Candy
Rich milk and dark chocolate ganache swirled together with pieces of popping candy. Dipped in milk chocolate, then coated in a fine layer of white chocolate and rolled in sweet sparkling rainbow sugar.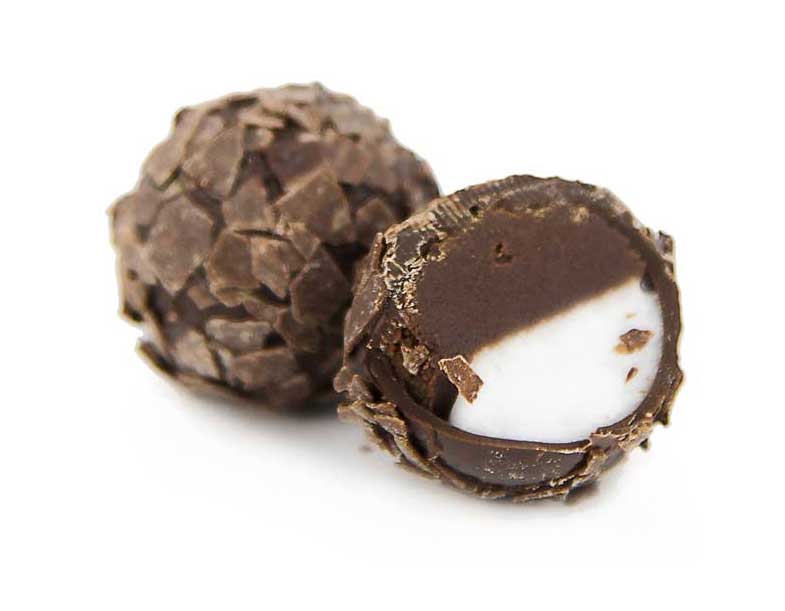 Mint Slice
Our first "double decker" truffle. One layer is smooth dark chocolate ganache, the other is a delightfully minty layer of fondant crème. Coated in fine dark chocolate, then rolled in flaked dark chocolate.
Passionfruit
A softly whipped centre based on white chocolate with an exciting and delightful passionfruit punch. Coated in fine white chocolate and glistening golden sugar.
Dark
Deliciously rich 70% dark chocolate ganache dipped in the same dark chocolate for extra richness
Salted Caramel
Deliciously gooey caramel centre with a hint of Murray River salt. Coated in fine dark chocolate and dusted with Dutch cocoa powder.
Sesame
Velvety smooth milk chocolate and almond based ganache with lightly toasted aromatic sesame seeds for subtle texture and flavour. Finished with a tantalising hint of Murray River salt, and a delicate coat of milk chocolate.
Redback Truffle
For chilli lovers...this one has plenty of bite!
A complex composition of flavours and textures. Raspberry, dark chocolate and sweet Habanero chilli. Gluten Free
Smooth Hazelnut
Smooth, creamy milk chocolate and hazelnut centre coated in fine dark chocolate, then tossed in delightfully tiny, flavour packed caramelised hazelnut pieces.
Coconut
Smooth white chocolate and coconut centre, coated in a thin white chocolate outer layer for crunch and tossed in desiccated coconut.
Tart Lemon
Almost lemon curd in texture, the centre of this most delightful of truffles, consists mostly of smooth white chocolate and very tart lemon. This alluring truffle is a complete dessert in one, coated in fine white chocolate and offset with sweet icing sugar for contrast.
Italian Espresso
Milk chocolate ganache infused with Italian Espresso coffee beans. Coated in fine milk chocolate and tossed in thin delicate flakes.